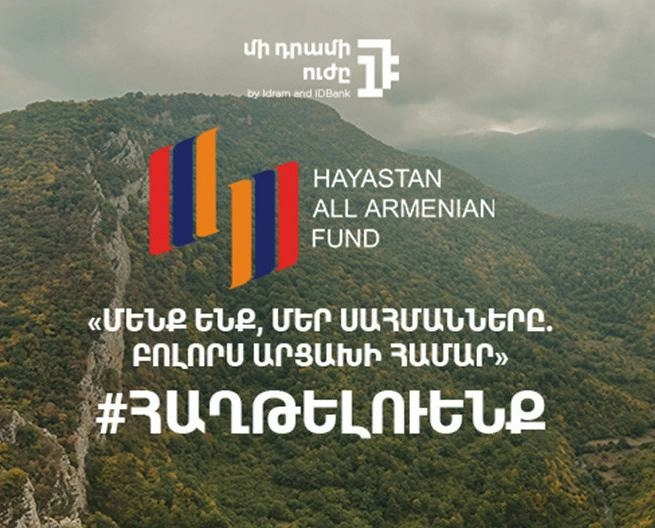 The second phase of
"The power of 1 dram"
"The power of 1 dram" initiative was summed up, and the amount gathered will be directed to the All-Armenian Fund to support Artsakh.
As Tatevik Vardevanyan, the head of Communication unit of IDBank mentioned, it was announced, that the amount of 1 drams gathered in the period of August 24 to September 30, which is AMD 2,521,255, was to be directed to plant trees near Tsitsernakaberd together with Armenia tree Project:
"But now, when the lives of our soldiers, the heroes fighting on the front line and the heroic people living on the frontier, are threatened, we, together with our colleagues from Idram and ATP, decided to donate the amount to the Hayastan All-Armenian Fund and plant 29 trees, because Artsakh, our second Armenian republic, is 29 years old. And because a tree is a symbol of life, we are simply sure that Artsakh, as an independent state, will live a long life, flourish and become stronger, spread its branches around and pull strong roots. Let the trees we are going to plant in a few days, be the symbol of strength, development and prosperity of Artsakh. There cannot be another option, we will win", said Tatevik Vardevanyan.
As the head of Marketing unit of Idram, Gor Amiryan said, the next program of "The power of 1 dram" will also aim to help Artsakh.
"The amount of "one drams" gathered in the period from October 1 to November 30, will also be directed to the nationwide fundraiser "We are our borders; All for Artsakh". I'd like to remind that for each of your payments the companies will transfer 1 dram to the initiative", said Gor Amiryan.
The representatives of the companies have mentioned once more that our strength is in our unity: with "one drams" we have an opportunity to do a great job without spending a dram, just by paying through
Idram
application,
IDBanking.am
platform, Idram and
Bank terminals
.
You can also donate directly to the Hayastan All-Armenian Fund by tapping the "We will win" button on the homepage of Idram application. You just need to update the application. It is also possible to transfer money via Bank and Idram terminals by choosing Hayastan All-Armenian Fund button.
#WEWILLWIN
Companies are controlled by CBA
Что для вас самое главное в банке?